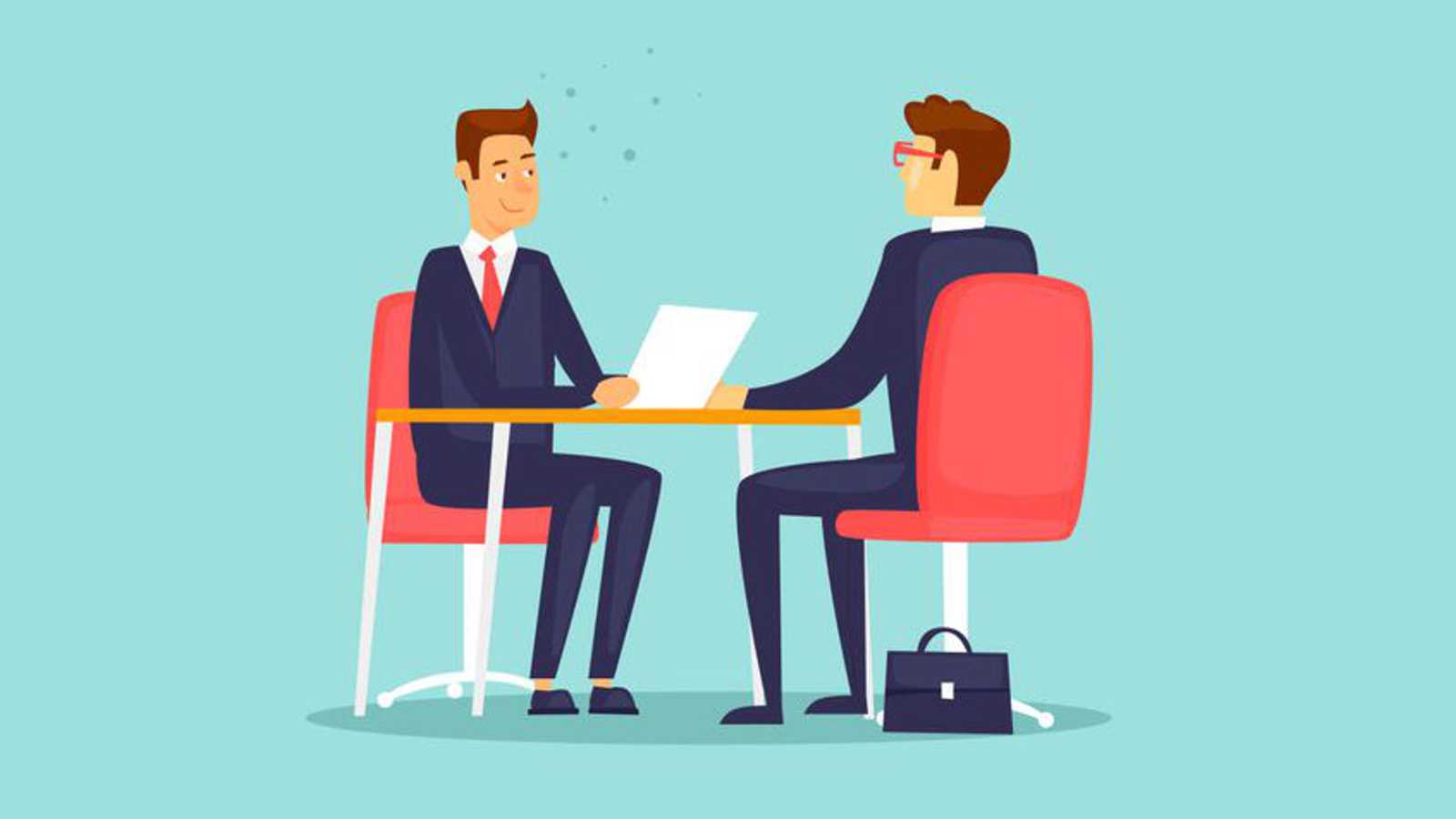 Have you got an interview coming up for a role in Finance or Accounting and want to know how to answer this tough question: Tell me about yourself?
Perhaps you are eyeing a role in Customer Services or Banking and want help summarising all your great experience?
Then read on to learn how to answer like a pro and find out how you can get expert sample answers for any role or level from Accounting right through to Sales.
So, you arrive at the interview and find yourself in the hot seat. All eyes are upon you and the first question the interviewer asks is:
'Tell me about yourself'
Ok, you think, nice open question, easy one, so you launch into a great rambling ten-minute speech giving all the details about your life from the day you were born including your hobbies and the name of your cat.
You feel very pleased with yourself, but chances are with that one answer, you may have lost the job.
The interviewer would possibly see you as incompetent, unable to summarise and lacking focus and direction.
In my experience as an interview coach many interviewees answer this question poorly when in fact, I view this as a great opportunity for you to really sell yourself and make a powerful first impression. So, what goes wrong?
If the question comes early in the interview, the interviewer wants to hear about your career to date and what you will bring to the job. Indeed, it may be that they have not had an opportunity to read your CV and want you to help summarise it for them.
Tell Me About Yourself: How a Great Answer Wins Jobs
This interview question is so commonly asked because it is a great question. Asking this at the start allows the candidate to talk about something familiar i.e., themselves, so they start to feel at ease. It also gives the interviewer lots of information in a very short space of time.
It is also used to see how well a candidate can communicate.
It is a test to see if you can summarise, can structure and can self-analyse so that you can impart the most important information in a short space of time.
For you as the candidate even though it might seem difficult this too is a great question. Get it right and it could get you the job irrespective of the sector or level, be it in finance, accounting, customer services or banking.
It's a real selling opportunity and we suggest you spend time getting your answer perfect.
Read More:
Get expert sample answers for your job and level when you join InterviewGold.
Why Employers Ask The Tell Me About Yourself Interview Question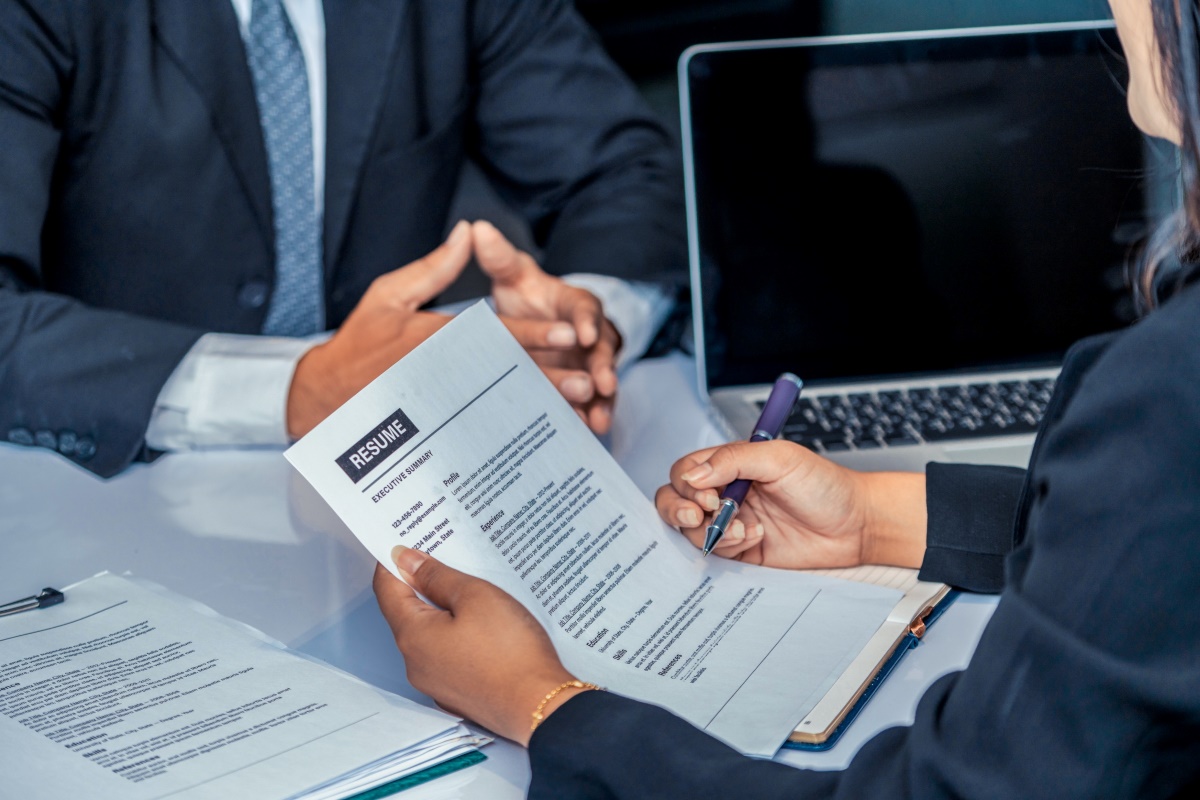 Your interviewers have to start somewhere and this is a great big question which is a perfect way to start the interview. It is an open question, so you cannot answer with a simple yes or no, you must start talking.
It is also possible they have not had time to review your CV, portfolio or application form in detail and this question invites you to give them a summary.
Here are the key reasons why they ask this interview question.
1. Nice interview opener
They must start somewhere, and this is a great open question which is a perfect way to start the interview. You cannot answer with a simple yes or no, you must start talking.
2. Gets you relaxed
The tell me about yourself interview question is a great ice breaker because it helps you to relax and start the conversation. It is a question you should have well practiced and you should be able to deliver it smoothly and successfully. A good start can help with those common interview nerves.
3. They haven't read your CV or Portfolio
It is possible they have not had time to review your CV, portfolio or application form in detail and this question invites you to give them a summary. As you will see below even if they ask for a CV walk through don't do it. This is a real selling opportunity and this lesson will help you get your answer perfect and nail that finance or accounting job offer.
4. They want to know you better
Crucially they want an early indication if you are right for the role or not. Your answer will give them lots of interviewer at a high level; say the right things and they will want to hear more – they will be invested and energised.
5. It is a test of your communication skills
It is also used to see how well you well you can communicate. For customer services posts for example, communication is a key skill. They will want to hear a concise, powerful answer which is relevant to the role and which clearly demonstrates who you are and what you bring to the role.
Give a poor answer to this vital question and you risk the panel switching off for the rest of the interview having already made their decision to reject you.
Other Ways They Can Ask This Question
Do not be surprised if the tell me about yourself questions is phrased differently. Employers know you will have practiced and they may try to throw you with a variation.
For example, variations can include:
Please talk us through your CV / Resume.
Tell us more about you.
Walk us through your portfolio.
Tell us something about yourself that's not on your application form.
How would you describe yourself?
Irrespective, the answer you give will be the same. Prepare it and practice it and you can deliver it smoothly no matter how they phrase the question.
How to Answer Tell Me About Yourself – General Rules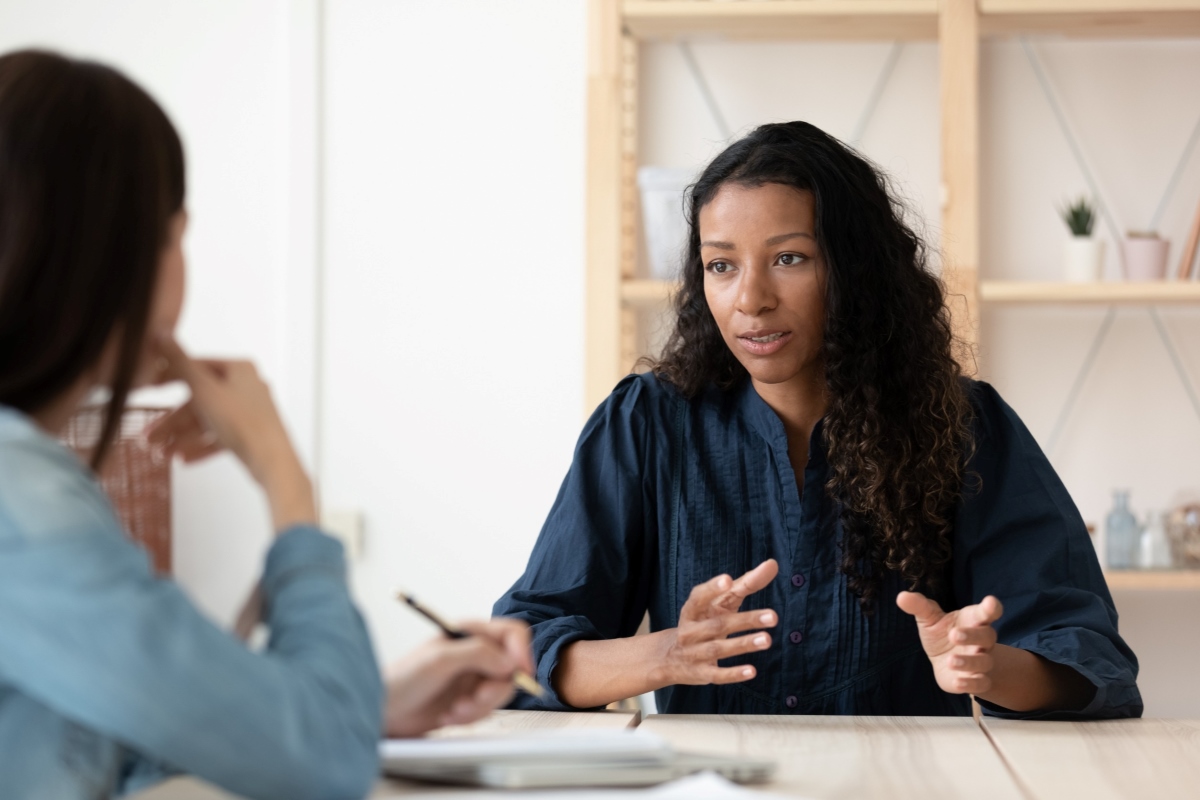 1. Avoid an answer that is personal: Many candidates make the mistake of assuming the interviewer wants to hear about their personal lives and talk about relationships, children, interests and hobbies. These are of no interest to the employer in an interview and are most likely to lead to failure. They want to hear about your work, your professional life and what you can do.
2. Don't just give a boring CV walkthrough: Put simply this is likely to become a boring monologue and shows a lack of communication skills and ingenuity. Even if asked 'Talk us through your CV' you should use one of our formulas to structure your answer. In this way, you will take control of the flow, you will direct the focus and you will come across as much more powerful and professional. The interviewer can then ask for further detail on any aspect.
3. Prepare and practice: It is worth spending time creating a powerful answer and then practicing until you can deliver it smoothly and confidently. It is vitally important as a good answer can set a positive tone for the rest of the interview while a poor one can be very difficult to recover from.
4. Proper structure: Most importantly your answer must have proper structure and a smooth flow that the interviewer can easily follow. They need to hear your key messages and you should deliver them succinctly and ideally within 2-5 minutes. The content needs to be strong, relevant and to the point.
A great answer to this question can set the scene for the whole interview and have a huge impact on the outcome.
How Long Should The Tell Me About Yourself Answer Be?
The general rule is to aim for an answer of about 2 minutes. However, we find that some sectors such as Government, Banking, Finance and especially at senior levels will expect more, sometimes even allowing up to 5 minutes.
What is key is to avoid a monologue.
Build a long 5 minute version and then create an alternative by editing it down to 2 minutes. If prompted after giving the shorter virion,  then you already have the material for the longer expanded answer.
Answer the Tell Me About Yourself Question With This Magic Formula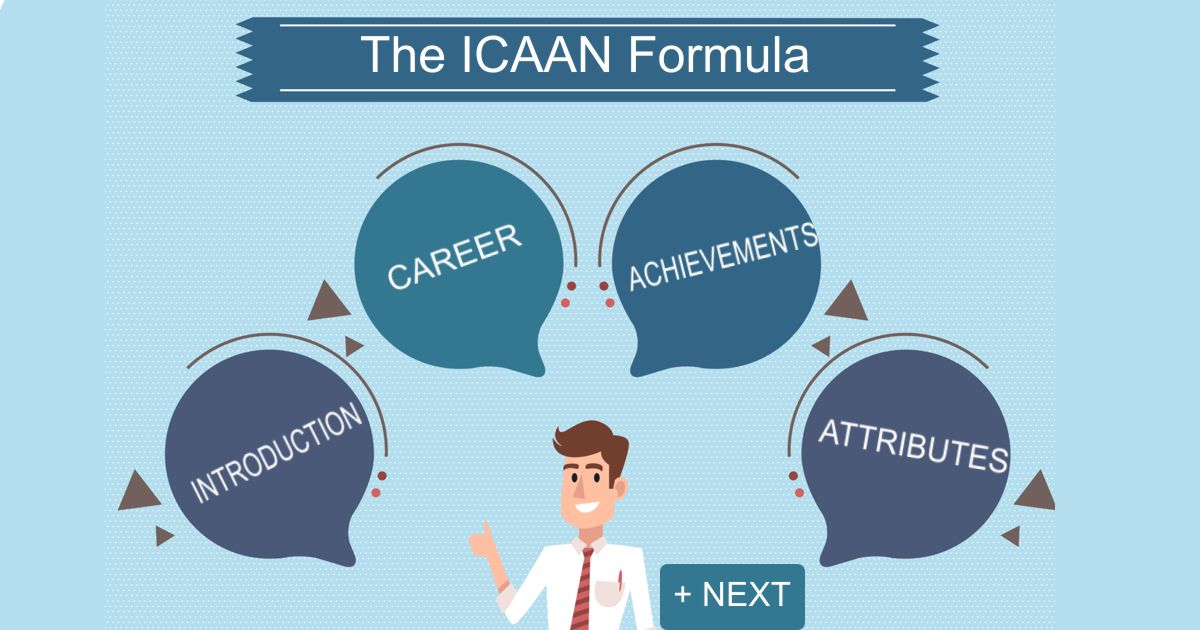 In the InterviewGold training system we include a range of great formulas to use when answering any interview question.
Here is just one we find works great for this question.
It is ideal for any sector, not just in accounting or finance or banking for example.
What is required here is a short commercial about yourself, which you should prepare in advance and to help structure your answer use the ICAAN+ formula: Introduction, Career, Achievements, Attributes and Skills, Next, + Personal.
INTRODUCTION: Include your name, profession, qualifications, current job title or specialism, number of years' experience, organisations you worked for.
CAREER: Expand on your career to date including Current Role, Previous Roles, Responsibilities and Experience.
ACHIEVEMENTS: Having outlined your career path, now is the point to highlight your key achievements. Mention a maximum of three each and ensure these are most RELEVANT to the role you are seeking.
ATTRIBUTES: Mention the core skills and strengths you are bringing. Review the job description and the list of competencies required and your answer should include some of these making sure you use the same terminology as used in the Job Description.
NEXT: There is a single sentence summarising why you have applied and how you see this as the ideal next stage in your career.
+ PERSONAL: If time allows and depending on the role and level, feel free to add a single sentence imparting some piece of personal information, perhaps mentioning interests or hobbies. It is a softer and more personable way to close the question and especially useful if it is relevant to the role.
Read More: Join InterviewGold today and learn simple magic formulas for answering any question plus get instant access to expert sample answers to dramatically boost your success.
Tell Me About Yourself Sample Answer for Finance and Accounting Role
Here is a section of a sample answer for a candidate being interviewed for a Finance and Accounting role at Manager level. This template will work great for any role including accounting, banking etc:
Introduction: Good morning, my name is James Smith*. I am a qualified accountant with six years post qualified experience gained within the pharmaceutical industry. (Expand)
Career: Previously I worked with Glaxo Smith Klein* as an assistant accountant and I have spent the past 4 years working with Pfizer* where my most recent role is Project Accountant…(Expand)
I successfully manage the day-to-day function of the project finance function including managing 8 staff both qualified and part time…(Expand)
Achievements: Three key achievements I would like to mention are firstly I recently implemented a new financial management system saving the company over £500,000 in year one…(Expand and talk through a minimum of 3 key achievements.)
Attributes: I bring a range of key strengths for example, I have a reputation for my attention to detail and delivering major projects within strict deadlines and I enjoy working with complex financial data…(Expand and one again we recommend 3 core strengths relevant to the role with evidence.)
Next: Going forward I will be working in a challenging finance role within this industry and your organisation is one I have targeted specifically. I met your team at your conference recently and I very much admired the work ethic and how your values fit perfectly with mine. In addition, it is a perfect career move for me because… (expand)
Tell Me About Yourself Sample Answer for Customer Services
Here is a section of a sample answer for a candidate being interviewed for a customer services role. Once again this can be adapted for roles in any client facing post such as in banking, government or civil service etc.
Introduction: My name is Fatima Boateng, I am a dedicated and customer-focused individual with a passion for providing exceptional service.
Career: I bring 6 years working within customer services with my latest role as supervisor with Amazon UK over the past two years. Prior to this I enjoyed a successful post with Barclays bank working in a client facing environment in their branch.
Achievements: My key achievements include managing a team of 4 customer service agents, recruiting and developing training and career plans. I have delivered against targets consistently and in the past 12 months I have achieved a 15% uplift in sales. Finally, I have been awarded a start performer prize for my exceptional manner when dealing with both my team and management.
Attributes: Throughout my career, I have honed my communication and problem-solving skills to effectively assist customers with their inquiries and concerns. I thrive in fast-paced environments and enjoy building positive relationships with clients. My previous experience in customer services has taught me the importance of active listening and empathy, which allows me to understand customers' needs and deliver tailored solutions.
Next: I am ready to move into this manager position. I am excited about this opportunity to contribute my expertise to your team and ensure a seamless and satisfying experience for all customers.
*Some of the details of this answer have been changed for confidentiality reasons.
Why These Sample Answers Work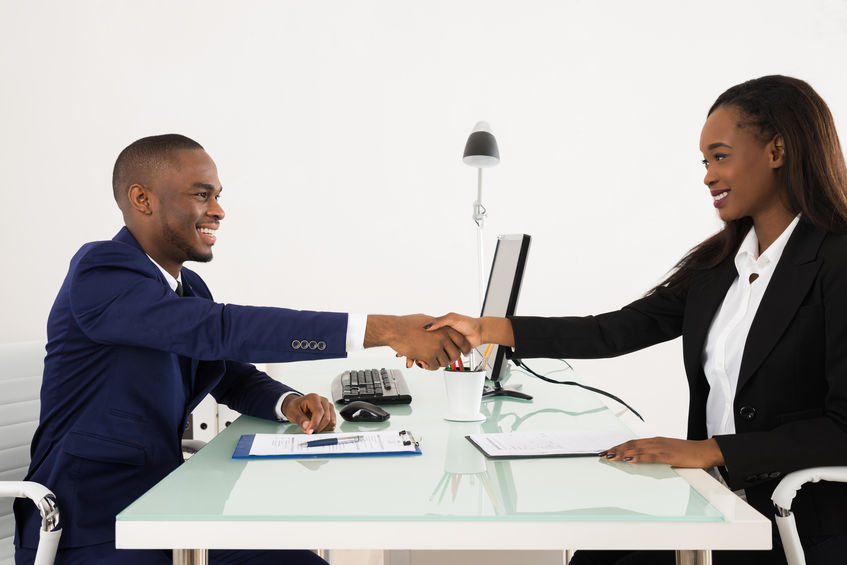 As you will see in these answers, we have addressed the capability, commitment and compatibility criteria and highlighted above are the key phrases that help make this a good answer.
Please note these are shortened version of ideal answers.
They highlight the key elements to include in your answer – you can access full versions in the InterviewGold online training.
You will need to expand your answers accordingly to really sell yourself and your skills.
When you have delivered your answer, ask 'Are there any specific areas you would like me to talk about further?' or 'Would you like me to expand on any of my achievements?'
Even without this prompt we would expect the interviewer to probe further.  Be ready with your answers and to structure use the STAR formula which you can learn about here.
3 Mistakes to Avoid When Answering Tell Me About Yourself
With our coaching clients we typically see 3 mistakes:
1. Lack of focus: The key error, too much talking. Senior candidates especially find it difficult to summarise a great career to date. They tend to start at the beginning and work through and this is a no-no. Focus, keep it recent and ensure the key points you talk about are relevant to the role in question.
2. Underselling yourself: Avoid the temptation to shy away from blowing your own trumpet. If you have done something great, you must tell them about it. While it's on your CV they may not see it and may not ask you about it. A little pushiness is good, sell yourself, show them what you have done, what you have achieved in past roles or tasks inside and outside of work.
3. Too much personal detail: This is all about what you can bring to the job so avoid including details of your personal life, hobbies and interests. Unless something is relevant to the job don't use valuable time including it.
Read More: Join InterviewGold and learn how to avoid embarrassing interview mistakes that can result in failure.
Get Detailed Sample Answers For Your Job From InterviewGold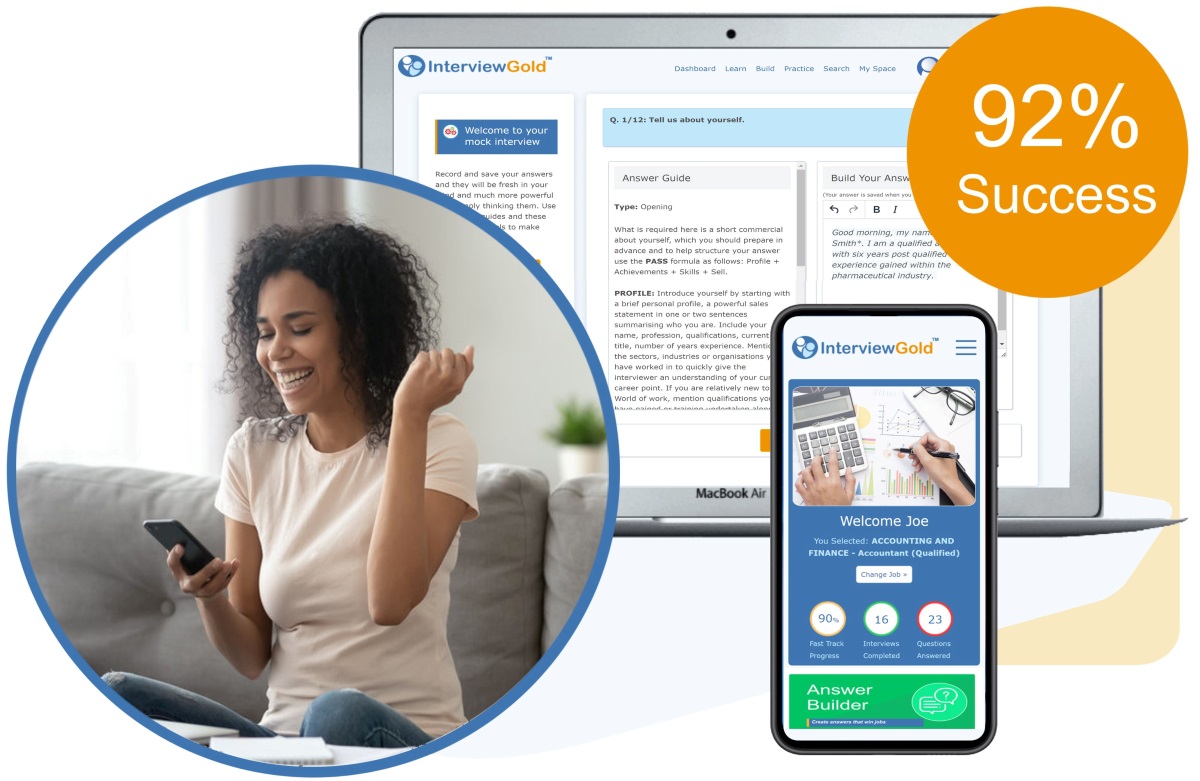 Answering the tell me about yourself interview question perfectly is a skill, but one you can learn. It is like an elevator pitch and you should have it clear, polished and smooth.
With our online interview training program you will learn easy, magic formulas for answering this question and hundreds of others commonly asked at your level.
Plus you will get detailed sample answers all designed to boost your chances of winning the job.
Best of all, it is tailored to your job, log in select your sector and then select your role and get accurate questions and answers plus tons of top advice. Over 20 sectors are covered including Accounting, Finance, Customer Services, Banking, Marketing, Sales etc.