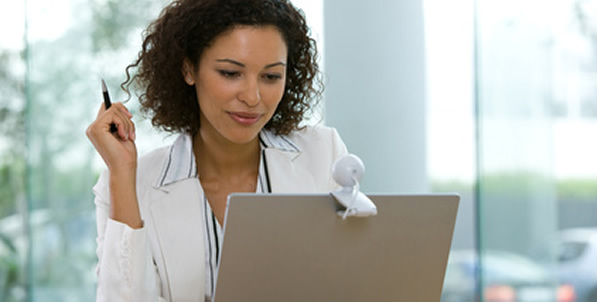 More and more employers are now using Skype job interviews to screen candidates as part of the selection process. Most of these are done via webcam and are a cost effective way of eliminating unsuitable applicants early in the process.
Be aware that passing these interviews are crucial if you are to get an invite to meet the employer face to face and it is vital that you prepare sufficiently. You can read this article with tips on how to answer interview questions and here are some additional tips specific to Skype interviews:
Skype Interview Tips
1. Treat this interview as you would a face to face meeting
Just because you are having a remote interview does not mean that you can get away with being unprofessional. Approach the Skype interview as you would any job interview and prepare your answers in advance.
2. Dress appropriately
Wear the clothes you would wear to a regular interview, be that a suit or smart casual attire. Not only will you look the part you will also feel more confident.
3. Ensure that your internet connection and webcam are working correctly
Test the connection with a friend before the interview. Is the sound working correctly, the lighting good and how does the background look. Try to place the webcam so that the background is a blank screen such as a plain wall.
4. Use eye contact
Look into the webcam at all times. If you look at the screen it will look as though you are avoiding eye contact and you may appear untrustworthy,
5. Avoid disturbances
You may be in your home during the interview and if so do ensure that there are no background noises or likely disturbances. This means children and pets out of the room.
6. Smile
Despite being nervous smile and look as though you are loving having this conversation. This will show through as enthusiasm and interest not only in the job but also in the interviewer. It is true that a Skype interview requires extra work as many non verbal clues will not be picked up so easily.
7. Sell yourself
As with any interview, you must sell yourself. You have a short window in which you can convince the employer that the job should be given to you. Be clear about what you are brining and how your skills and experience can benefit the recruiting organisation.
Online Training for Skype Interviews
Few would deny that excellent interview technique is crucial if you're looking for a job, especially in the current economic climate with such strong competition for every new post. A job applicant can have all the necessary qualifications and look good on paper, but if he or she comes across poorly at interview then there are plenty of other applicants out there for an employer to choose from.
A common problem for people facing job interviews is lack of confidence, and to build that confidence you need practice, practice and more practice. The more effort you invest in advance of the interview the higher your chances of success.
One of InterviewGolds features is the ability to practice with interactive mock interviews online. Questions are presented one at a time and just like in the real interview you won't know which question is coming next. These questions are all related to the job you are applying for and in fact feedback shows that over 80% of these questions actually come up in the real interview. Best of all every question comes with an expert answer so you know what to say.
Practice Your Skills with a Webcam
Imagine being able to practice as if you were in the real interview? And imagine seeing what the interviewer sees?
To make your interview preparation even more effective InterviewGold now includes an optional webcam recording feature alongside the interactive mock interviews. It is so simple to use and yet so effective: you record yourself answering prepared questions using your webcam which you can then play it back to judge for yourself how well you performed.
You can see yourself as the interviewer would see you and you can review all aspects of your interview technique.  Judge your ability to speak clearly and articulately, check your body language and see whether you are hunched up or sitting straight and try and spot any nervous habits like fiddling with your fingers or hair.
Webcam Practice Improves Your Chances of Success
We have had excellent feedback from jobseekers who say the webcam recording feature is invaluable and has made a real difference in getting those elusive job offers.
The webcam feature will help you practice your interview technique, over and over, until you are happy with it and you can perfect the delivery of your answers quickly and easily.
You should be able to easily see any problem areas that you have, and you can then correct them and repeat the process until you feel confident with your delivery, your manner, and your speech. You can also email your video interview to a friend or colleague to get an unbiased second opinion.
The webcam recording feature is a great help for any candidate but especially for those facing a Skype interview with trepidation. It is also ideal practice for any interview type and for those who might be a little out of practice and want to regain some polish and self-confidence. It is a real bonus and almost as good as having your own personal interview coach!