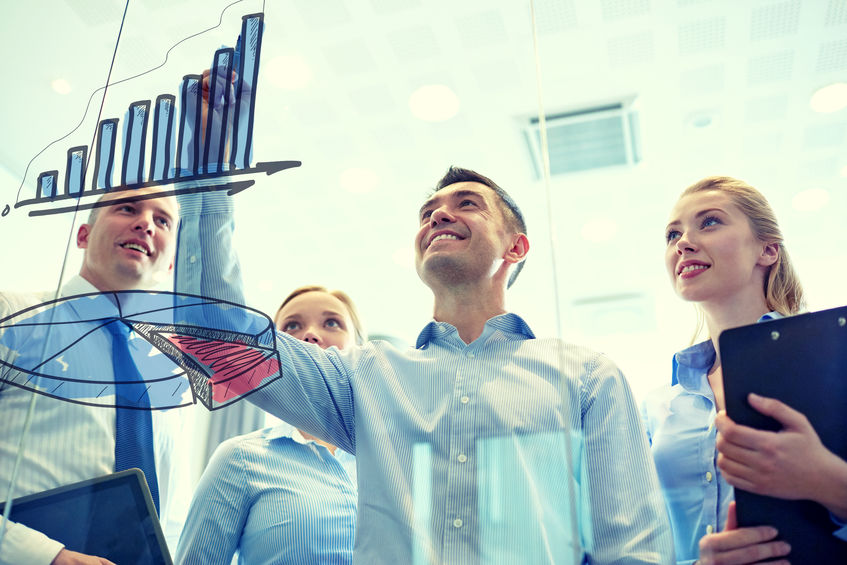 Sales job interviews can be notoriously challenging and the interview questions asked can be very difficult to answer for the uninitiated candidate. This partly due to the fact that the nature of the job itself is extremely challenging and the interview is designed to weed out those candidates who frankly will just not be good sales people or good sales managers.
To be successful in a sales career you need certain personality traits such as determination and a thick skin. It is certainly not the type of job that anyone can necessarily do, and sales job interviews will reflect this and be quite demanding and challenging. In addition to the formal face to face interview you will probably have to attend an assessment centre to undertake tests and exercises to determine your suitability, and also to undergo one or possibly several interviews.
Sample sales interview questions and answers
Here are some sample interview questions and answers for a sales job interview. I list more at the bottom of the page and suggest that you test yourself to see how confident you are and how competently you can answer.
Tell me about a time when your sales skills resulted in a success?
This is a direct but very pertinent interview question designed to assess your mind-set and level of selling skills. In your answer show your awareness of the various techniques for selling and how these vary depending on the type of product involved, the kind of business, and the way in which you interact with the customer. For example, it is recognised that telephone selling is different from the face to face situation, since with the former there are no body language clues available; it is all down to interpretation of the customer's voice response and careful choice of words. In your interview answer include examples of all techniques you have used and the results achieved.
What are the most common objections you face when selling and how do you deal with them?
Answering objections is a common challenge to sales people and one you should be familiar with. Potential customers may say they don't need a product or they already have a supplier. These are general objections to which you will have a ready answer in terms of the quality and price of the product you're selling, for example.
When giving your answer the key is not to admit to inadequacies, but to focus on meeting, and surmounting challenges which form a regular part of the salesperson's job. An example of a skill, or lesson learned as a result of overcoming a difficulty is seen as indicative of a positive and determined attitude.

Tell me about a time when you missed your sales targets;  what was the cause and what action did you take?
Everybody knows that it is the nature of sales to experience fluctuating results due to all sorts of factors beyond one's control, such as seasonal issues, economic or market drifts, or changes with a product formula. The interviewer is looking for a degree of sales consistency, but also is interested in how you have faced problems and acted to improve your performance where necessary.
If you simply answer, "No" to this question in your interview, it is not likely to gain favour or be convincing, and it is better to show that you understand that a period of low sales can occur and is a challenge to accept and deal with. In your answer show the interviewer that you have the ability to constantly learn from experience and are ready to change tactics to overcome difficult challenges.
What in your opinion is the most difficult aspect in a sales manager role?
This interview question is negatively phrased and is designed to uncover a lack of confidence or weakness. When giving your answer the key is not to admit to inadequacies, but to focus on meeting, and surmounting challenges which form a regular part of the salesperson's job. An example of a skill, or lesson learned as a result of overcoming a difficulty is seen as indicative of a positive and determined attitude.
Answers to sales interview questions
If you have got as far as an interview then you can be reasonably confident of possessing the required skills for the job. Your interview answers need to be honest, open and with string examples of your achievements backed up with figures. In the interview there are a number of key traits that I will expect to see in your answers including:
Show me you are a confident salesperson: Confidence and persistence are the most important qualities for a sales person, without which you can never hope to succeed.  As well as confidence in yourself you need confidence in the product which should be palpable and obvious.
Demonstrate good listening skills: Having "the gift of the gab" is only part of the salesman's skills. He should also be a good listener, and take the time to ask a prospect questions about what they want and expect from a product. The ability to read a prospect and establish a dialogue is a necessary skill that be looked for in interview and one you should be ready for.
Sell yourself to me: How persuasive are you when you need to be? If you can sell yourself to the interviewer by convincing them of the skills you have and the advantages you are sure to bring to a company, then you will stick in his mind when it comes to the final selection of a candidate for the job.
Build Strong Relationships: Your interview answers need to show that you can build relationships and network. These are vital skills for a salesperson, because they need to reach as many prospects as possible. Give examples in your answers showing your ability to do this.
Show me you can work well on your own: A salesperson always has targets to meet but is often given free reign as to how to actually achieve them. You need to show that you don't need your hand held but can confidently work alone, so you should give answers with examples of ways you can do this.
Convince me you will be able to sell my product: You should have done extensive research before your interview about the company and their products so that you know all about them and have some idea of any especially good features and how best the products should be marketed. Demonstrate at this knowledge and enthusiasm in your interview answers.
More interview questions for a sales job
Here are some more sample interview questions for a sales job which you should test yourself on and gain confidence prior to interview.
Why do you wish to take up a career in sales?
Do you get a buzz from selling, and what is your favourite aspect of the job?
How do you overcome customer rejection of a product?
Tell me about some of your previous customers and your relationships with them.
Have you lost a client, and if so do you know why?
What is the largest audience you have personally addressed?
Tell me about the most recent contract you have won.
Tell me about your considered best sales pitch and examples where it has worked well.
So how did you get on? How confident would you feel answering? For a whole range of sales interview questions each with winning answers have a look at InterviewGold for Sales the online interview training system for candidates attending sales interviews. It's online and you can start with it right now.