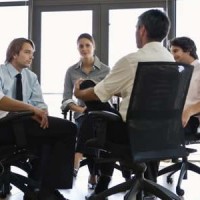 Have you been visiting the numerous careers fairs around the country recently? Hopefully you have made some useful contacts and already have some job interviews in the pipeline.
Many job interviews from events like these take the form of Assessment Centres which are very different to a typical interview. A little research is therefore needed to make sure you sell yourself effectively.

Assessment Centres are usually used by larger businesses due to the costs involved and are favoured by careers event exhibitors as they allow for shortlisting on a large scale. There are a whole range of different exercises you may be asked to do including:
•    Aptitude tests
•    Personality tests
•    Group discussions
•    Case studies
•    Presentations
•    In tray exercises
•    Written exercises
These will all be used to assess your skill and competency. Your communication skills, decision making, ability to work as part of a team and to achieve a common goal will also be monitored. Exercises will vary depending on the level of the post and the type of industry.
However the most common and effective activity in Assessment Centres is a group exercise.
Group discussions will expect 4 or 5 candidates to work together. You will be given a topic and will have about 5 minutes to review the instructions and then you will be asked to explore the issue as a group. The group discussion will usually last up to about 20 minutes or so. You will be observed by one or more assessors and you may be videoed for consistency and quality purposes.
The assessor will be looking to see the part you play within a team and how you interact with your colleagues. Not all participants will be leaders so follow these 4 simple tips to ensure you shine:
•    Be Yourself: Do not try to lead if that is not your natural tendency. Ensure you get your views across clearly and confidently.
•    Listen: Assessors will note how well you have listened to and understood your instructions. Also, use active listening techniques when your colleagues are speaking such as nodding, reflecting and repeating back to demonstrate that you are involved and interested.
•    Contribute: You must contribute and you must be heard otherwise the assessors may not notice you.
•    Co-operate: You must be seen to be a team player. Avoid over-dominating the discussion or interrupting when someone else is speaking. Do not be confrontational or dismissive of others views.
For more information on Group Exercises join InterviewGold to access an entire module dedicated to Group Exercises, outlining the key points and providing tips for success.
InterviewGold offers interactive job interview training that is tailored to your entry level and job sector and will grow with you as you progress up the career ladder.